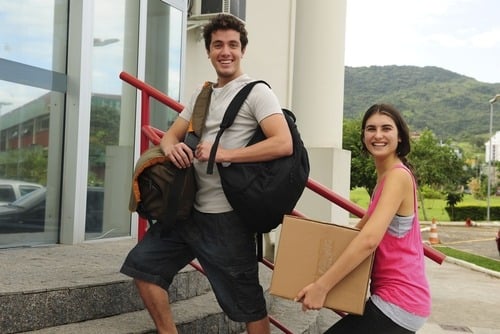 For many students, August and September means college is about to begin. Numerous students will enter dorm rooms for the first time this fall and for some, it will be a whole new experience living with new people and away from home. While this is an absolute exciting time for most first-time college students, parents might be nervous to send their children away from home.

One of the biggest reasons parents are nervous about the new setting is protecting the plethora of electronic devices in the dorm. With digital classrooms becoming the norm for college, students are bringing tablets, smartphones and laptops to help study and stay entertained in college. However, theft often runs high in dorms, and protecting devices is essential. Here are three tips to protect electronics in the dorm:

1. Educate new students on theft
The quickest way to help prevent electronic thefts in the dorm is for parents or guardians to inform teenagers about the potential risks. According to the Detroit Free Press, first-time college students should be informed about identity theft and how easy it is to access personal information on an electronic device. The Federal Trade Commission reported more than 25 percent of all identity theft victims were under the age of 29.

"ID thieves are opportunists," said Becky Frost, the senior manager for consumer education at Experian's ProtectMyId, according to the Detroit Free Press. "It might be another student who is having a hard time making ends meet. They can feel completely justified in what they're doing."

By simply educating new students to keep track of and securely their devices can help prevent any sort of electronic or identity theft.

2. Lock up all electronic devices
Many students may think they are safe with dorm security and special keypad locked security. However, it's easy for thieves to pose as college students and enter dorms. Many kids like to keep their doors open and create a welcoming vibe to new college kids to make friends. However, leaving laptops, cameras, iPads and smartphones out can lead to theft.

Lt. Cameron Wassman at the Central Michigan University Police Department explained that thieves take advantage of unattended backpacks and open dorm rooms to steal devices that are left unattended, the Detroit Free Press reported.

"Many times, the students have a false sense of security in our environment," said Wassman.

Students should lock up all their devices whenever they leave their dorm rooms and do so no matter if their roommates are home or not. Taking the extra step could prevent stolen devices.

3. Invest in insurance for all electronic devices
While students can take all the steps to protect their valuables in a dorm, theft and damage is still possible. Lugging around tablets and smartphones to different classes can put a lot of wear and tear on devices and investing in computer insurance or smartphone insurance can make all the difference. According to The Buffalo News, while homeowners insurance can sometimes cover things in a student's dorm room if they are stolen, it usually doesn't cover damage or theft outside of the student residence building.