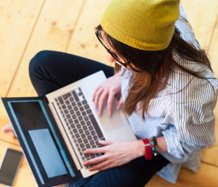 With many K-12 schools returning to school this week and many college students preparing to move back on campus, school is officially back! The chances are, you've done plenty of back-to-school shopping in preparation, but is your laptop operating at a high level? As today's education continues to skew more towards digital learning, laptops have increasingly become a focal point for learning at all grade levels. The trick is identifying what characteristics make a laptop the perfect fit for your needs!
In the below post, we have taken a look at some of the best and most current laptops available to students of all ages. We'll identify the traits and attributes that make each of these laptops optimal for educational use!
---

Dell XPS 13: Possibly one of the more important traits for students who go with the XPS 13 is its' excellent battery life! In numerous endurance studies, the XPS 13 has been reported to last up to 14 hours without charging. Furthermore, one of the biggest improvements Dell has made, as compared to its predecessors, is in relation to its much improved 7th-generation Core performance. Ultimately, this helps lead to a much faster overall performance versus older models. The Dell XPS 13 can be yours for $799 on the current market.

Asus ZenBook UX310: The ZenBook UX310 is a solid option for any student and comes at a relatively cheaper cost than the Dell XPS 13, at $699. In comparison, the biggest downside of this laptop model is its less than satisfactory battery life. On average, tests have indicated that battery life time is estimated at around 5 hours. On the positive side, though, the durable design has been widely praised! With an aluminum body and an excellent screen display, this is definitely an attractive laptop option!

Asus Chromebook Flip: With Chromebooks becoming a widely used laptop platform in 2017, engadget.com has given the Asus Chromebook Flip the distinction of the "King of the Chromebooks". Definitely, some high praise! So what makes it the "King"? Well, for one, is widely regarded as one of the more portable laptops on the market at a low weight of just 2.43 lbs. Making it easy to transport from class to class. The screen display is described as being sharp and includes touchscreen technology. The battery life is no comparison to the Dell XPS 13, but at only $469, it's definitely hard to beat.
---
If you are looking to update your laptop game going into the fall of 2017, make sure your laptop does not go unprotected from a variety of different damages! If you insure your laptop through Worth Ave. Group you will avoid the risk of having to replace your laptop at a much higher cost! For as low as $1.83/month you can protect your laptop from damages including: accidental damage, cracked screens, theft, liquid submersion and more!