The 2018 CES (Consumer Electronics Show) has concluded and has left us with a lot to be excited about! With CES being one of the most exciting CES events of the year, many different companies have announced consumer technology that will change the future for years to come. In the following blog, we have taken a look at the technology that has us buzzing heading in 2018. Take a look!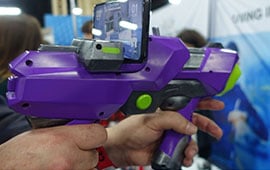 1. Merge VR
Merge VR, from Merge labs is an AR/VR company that produces games and reality based experiences. At CES 2018 they introduced what was probably the most fun use of VR, a game with nerf guns that utilizes your smartphone. The plastic gun called the "6DoF Blaster" works when you place your smartphone in it. Games played with Merge VR can be built using Apple's ARKit platform, along with other games on Android platforms. The 6DoF Blaster is going to be available later in 2018.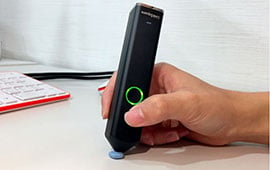 2. LinkSquare
Linksquare is a technological instrument that allows people to test food and other substances they come across for contaminants. This lets you know whether the food you have is spoiled or not. Linksquare is an especially important device to use if you're traveling and are interacting with new kinds of foods. Additionally, Linksquare will tell you the breakdown of different materials you scan on a molecular level.
How does it work? When a molecule interacts with light, it emits a specific frequency, which Linksquare can detect with its proprietary scanning technology. The basic Linksquare Spectrometer costs $299, and comes with the spectrometer and phone app access. If you want a more fleshed out experience, you can get additional software for collecting the data, though the enhanced experience will cost $749.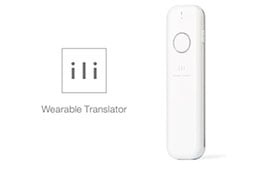 3. Iamili
The Iamili is a tool that translates thousands of languages without the need of Wi-Fi. In an increasingly global society, being able to communicate with those who don't speak the same language as you is extremely important. The Iamili translator tool helps to bridge this language divide. Using the Iamili is easy, just speak in one sentence at a time and the tool will translate what you said into the output language.
Iamili is not meant for all situations however. It works best for "traveling" language (i.e. when you're trying to find a nearby restaurant, when a train is leaving, or information about shopping).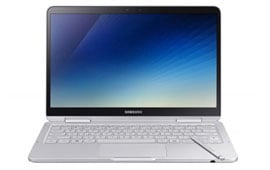 4. Samsung Note 9 Pen
The Samsung Note 9 Pen is a laptop tablet hybrid. Its updated specs and technology, combined with its rugged looks, make it a hot item for 2018. The Samsung Note 9 was one of only a few new laptops unveiled at CES, but its tablet functionality and innovative pen help it to set itself apart from its competitors. The Samsung Note 9 has a 360 degree HD screen, an Intel Core i7 processor, a 75Wh battery and a fast GPU. The Pen used with the Notebook 9 is the same as the pen used with the Note 8, which means increased sensitivity, functionality, and ease of use.
The Samsung Note 9 Pen will be released sometime in early Spring 2018.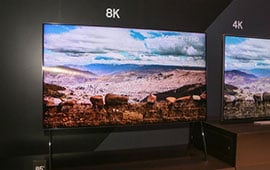 5. Q9S 8k TV
As 4K TVs become more ubiquitous and prices begin to drop, it makes sense that the next step would be taken with TV technology. Samsung unveiled an 85 inch 8K TV at CES 2018 with upscaling technology that will make standard definition video high resolution. 4K content, as of now doesn't really exist, as 8K cameras cost up to $80,000.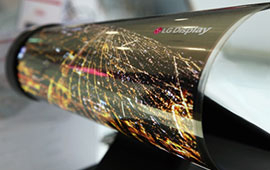 6. LG Rollable TV
For years now, LG has been teasing their roll-able TV technology but as of yet it was mostly hype. (Link) That is why LG unveiling their new roll-able TV brings much excitement; it's a change to something that has, essentially, stayed the same in the American household for a long time. The rollable TV at CES 2018 is still just a prototype, but as TVs get bigger and bigger, being able to roll up a TV to transport it could be too good to pass up.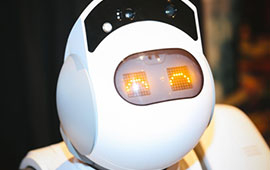 7. Aeolus the robot
With trepidation surrounding the impact of AI and robots in future society, robots tend to have a negative connotation. Many people envision a future where robots take control of people's jobs, leaving many people out of work. However the future isn't entirely bleak; smart assistants in the home are becoming more and more popular as Amazon and Google compete to enter American homes. Smart robots, then are the next step in the household of the future.
Aeolus the robot could be the robot assistant of the future. Aeolus was shown off at CES 2018, and the demo model that they unveiled was able to do menial household tasks: grab drinks from the fridge, sweep the floor, and vacuum with an arm attachment. When Aeolus is released later in 2018 it might not have as many abilities, but the future of robotic assistants is certainly exciting.