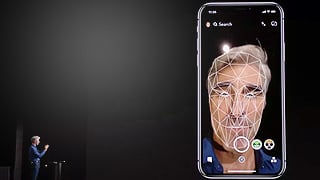 The iPhone X's Face ID feature is now being used by a large division of Apple fans as Apple reported selling millions of iPhone X models this past black Friday. But with reports of companies cracking the code on Face ID and proving that Face ID isn't as secure as Apple thought, many Apple customers are worried about the security of their brand new phones. With these reports, Apple customers have become increasingly concerned that hackers will be able to access their phones and steal their identification and other private information. In addition, if someone is able to log into your phone with Face ID, it'll make the phone easier to sell if it is unlocked.
First off, there's no need to be too worried about not being able to use a passcode if Face ID doesn't work. Apple has stated that you have to use a passcode if:
• The device has just been turned on or restarted.
• The device hasn't been unlocked for more than 48 hours.
• The passcode hasn't been used to unlock the device in the last 156 hours (six and a half days) and Face ID has not unlocked the device in the last 4 hours.
• The device has received a remote lock command.
• After five unsuccessful attempts to match a face.
• After initiating power off/Emergency SOS by pressing and holding either volume button and the side button simultaneously for 2 seconds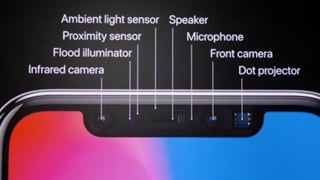 So passcodes aren't gone forever, Face ID is more a replacement for Touch ID than anything else. So should you be concerned about your phone's security with Face ID?
Apple claims that Face ID is incredibly accurate and secure, and states that there's a 1 in 1,000,000 chance of a passer-by on the street gaining access, compared to 1 in 50,000 with Touch ID. Face ID is made possible thanks to Apple's TrueDepth camera system, which lies in the notorious notch on the top of the iPhone X. The camera system comprises of 3 different parts: an infrared camera, a flood illuminator, and a dot projector, while the notch as a whole houses the proximity sensor, an ambient light sensor, a speaker and a microphone.
For the camera system to work, the flood illuminator first detects your face (in any kind of lighting condition) so you shouldn't worry about using Face ID in the morning or in the evening. The TrueDepth system then captures your face with the IR camera, which according to Apple uses 30,000 dots to take a reading of your face. This data is used to create a sequence of 2D images and depth maps, which are then stored in your iPhone. So, how secure is it?
Through Apple claims that Face ID is much more secure than Touch ID, recent headlines have many consumers wondering whether the Face ID is secure from hackers or people trying to spoof your face with things like photos or videos.
A Vietnamese company named Bkav made headlines in early November after uploading a video featuring Face ID accessed by a mask (Video Link), but there were several questions about the unlocking methods used in the video about whether or not it was legit. The same company has since made another video (Video Link) with a new better mask and a clearer look at how the mask's build was used to hack into the iPhone X. The materials used to make the mask cost around $200, so you shouldn't worry too much about someone replicating it. Still, the fact that if someone wanted to they could hack into your iPhone isn't a pleasant thought.
So should you be worried about security on the iPhone X with Face ID?
The answer is probably no, if someone wants to hack into your Face ID they'll need to spend a good amount of money to recreate the mask that was used by Bkav. But, be vigilant and make sure to take extra precautionary measures to ensure your phones security!