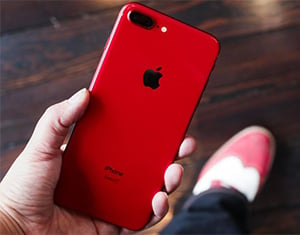 For years Apple has released versions of the iPhone with the option of a few generic color choices for the outer casing. Colors such as "Space Grey" have become widely recognized and associated with the brand, while a newer "Gold" design has been released in recent versions of the device. However, Apple has decided to continue its movement to more polarizing color options with the release of the iPhone 8 and 8 Plus (PRODUCT)RED. While Apple experimented with this last year, with the iPhone 7 model, this year's model is said to be new and improved; making this is an exciting development for Apple users!
The (PRODUCT)RED design, set to be released on September 22nd, presents a sleek red glass casing with options to purchase the device with 64GB or 256GB of storage. One of the main aspects of the new design that has been received well is the changes to the front facing screen display. Previous designs included a white faceplate that had not been looked upon favorably; now Apple has incorporated a red/black front design that, by all reports, is an excellent change of pace!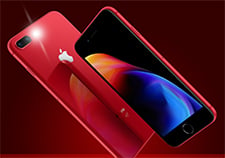 A big change to the new iPhone sees the back of the iPhone as an updated glass design; as opposed to the aluminum background we have gotten use to over the years. Additionally, with every purchase of the iPhone PRODUCT(RED), Apple will donate a portion of the proceeds to the Global Fund fighting HIV and AIDS. In fact, it's been reported that since 2006 Apple has donated around $160 million to the global Fund!
One of the only complaints of the red design is that it is only available for the iPhone 8 and 8 Plus, not the iPhone X. It appears that the photos of the new design have gotten a lot of Apple users to wanting to capitalize on this glossy new look, but it appears iPhone X owners will have to wait.
Take a look at the video below for more information on the new device!
So what do you think? Are you thinking about getting the iPhone (PRODUCT)RED design?
If you are considering purchasing either the new iPhone 8 and 8 Plus (PRODUCT)RED, make sure that your investment doesn't go unprotected! As an iPhone owner, you have the ability to avoid the risk of having to replace your damaged device at a much higher cost! In fact, for as low as $5.17/month you can protect your device from a variety of accidental damages! We cover damages including: accidental damage, cracked screens, liquid submersion, theft, vandalism, fire, flood, natural disasters and power surge by lightning depending on the device.