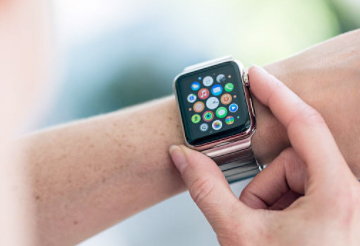 The popularity that once surrounded the wearable technology industry has been largely subdued, as more and more companies struggle to make moves in the market amid slowing consumer demand. Fitbit, once a tech darling, is not doing well, as the company reported $174 million in losses in the past year (Link). Additionally, Jawbone, the Bluetooth device manufacturer who had gone all in on the wearable market, recently began liquidation proceedings (Link) after going out of business.
Other companies haven't fared well either, and it appears as though the smartwatch industry is a monopoly, with the Apple Watch holding the top spot. In fact, the Apple Watch accounts for 50% of all smart watches sold and accounts for 80% of smartwatch revenue generated in the wearable industry (Link). The Apple Watch has never been a must own item for iPhone fans, but with the announcement of a new model at the recent Apple Event many Apple fans were wondering if this would be the model that would become a must own. The Apple Watch Series 3 was announced at the most recent Apple Event, and though it wasn't the main device that everyone was there for it did generate a significant amount of hype.
---
So is the Apple Watch Series 3 a must get for iPhone and Apple lovers? Let's find out:

Design: The latest iteration of the Apple Watch does not have any major design changes. It's a basic rectangular shape with rounded corners: the same shape that has existed since the Apple Watch Series 1. It's got the same luxury finish as other Apple products like the MacBook and iPhone, which means that it feels expensive.

Cellular Capabilities: The new Apple Watch seeks to remove itself from further from the need of a phone. The Apple Series 3 watch introduces cellular capabilities, which is a big step towards putting all of the iPhone's capabilities on your wrist. The new Apple Watch Series 3 works on every major carrier: Verizon, AT&T, Sprint, etc.; all while using your normal iPhone phone number, so you won't miss anything that would appear on your normal iPhone. There is a catch however; the Apple Watch series 3's cellular service costs $10 a month on top of your normal Phone bill.
The connection process is actually pretty simple. First, your Apple Watch tries to connect to your iPhone via Bluetooth. If your Watch can't connect via Bluetooth, then your Watch tries to connect to Wi-Fi if it's available. Lastly, if none of the previous two options are available your Watch will switch to LTE.

Music: With Apple recently discontinuing the iPod Shuffle and iPod Nano, the pressure is on the Apple Watch to deliver a fantastic music experience. For the most part, the new Apple Watch delivers. Syncing music to the Apple Watch doesn't take nearly as much time as it did with the original Watch, with WatchOS 4 music syncs automatically. Additionally, music can be synced to the Apple Watch while the Watch is charging to save time.
Music for the Apple Watch used to be an iTunes only proposition, but with Apple Music streaming is a lot easier. If you make the move to the Apple Watch Series 3, you'll need an Apple Music subscription as well.
The Apple Watch also has no headphone jack, so you'll want to buy a pair of wireless headphones to pair with your Apple Watch.

Fitness: As other wearable fitness tracker companies have fallen by the wayside, many people have begun to use the Apple Watch for fitness and health related activities. The Apple Watch Series 3 can track stairs climbed, heart rate and exercise related graphs and statistics. In addition, it also has GPS compatibility to help with mapping aerobic activity like running or walking. The Apple Watch can also be worn in the water (its waterproof up to 50 meters).
---
Conclusion: So is the new Apple Watch worth your money? The answer will come down to your use of Apple products and what you want out of your device. If you own an iPhone, Airpods, and have an Apple Music subscription then the Apple Watch is an obvious extension of your Apple ecosystem, and you'll benefit from the Watch's cellular capabilities, its fitness tracking and its more sleek design. If you don't have an iPhone or an Apple Music subscription, you might choose not to buy an Apple Watch; even though the Apple Watch's capabilities have grown continuously since the Apple Watch Series 1, it's still not useful enough for most people to stomach its price and limited battery life.