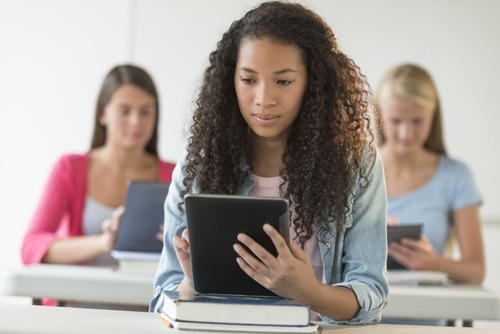 With the increased amount of mobile technology popping up for consumer use, it's no wonder numerous school districts are instituting new technology to help in the classroom. New mobile technology alternatives are quickly making textbooks in the classroom a thing of the past as schools move their educational funding toward enhancing the digital classroom.
Specifically in Nashville, the city's public schools have invested more than $1.1 million toward digital social studies materials in 2014 alone, explained Joe Bass, a spokesman for the school district, according to the Battle Creek Enquirer. Bass added that his district plans to add even more money within the next few years to give teachers a new alternative to textbooks in the classroom.
"The textbook should not be the primary resource for teachers," said Jay Steele, the chief academic officer for public schools for Nashville's school district, according to the source. "It is a resource only, and it's one of many resources."
Everything from interactive websites, videos, mobile platform applications and other computer software is helping create digital classrooms, which are significantly upgrading the educational experience for students. The devices are also getting students to interact in the classroom more so than standard textbook educational settings.
According to the Battle Creek Enquirer, experts in the educational field are saying the move away from traditional textbooks is not only a sign of the times, but it's also providing students with the most up-to-date resources since paper documents can quickly grow outdated.
Increasing student motivation and engagement
The U.S. Department of Education explained technology creates a better model for student-to-teacher connections, which could increase student engagement and motivation. Technology can also help teachers stay on top of the latest teaching patterns, skills and methods - ultimately creating a better personalized training opportunity for students.
"Online learning opportunities and the use of open educational resources and other technologies can increase educational productivity by accelerating the rate of learning; reducing costs associated with instructional materials or program delivery; and better utilizing teacher time," the Department of Education report cited.
Paul Beavers, a world history teacher at Nashville's Hillsboro High School, said technology has better tailored his curriculum, the Battle Creek Enquirer reported. Beavers added that with new technology devices in the classroom, it has made him stay on top of his game for educating students.
With the growing amount of devices in schools, district officials are looking into tablet and laptop insurance to protect their technology investments.