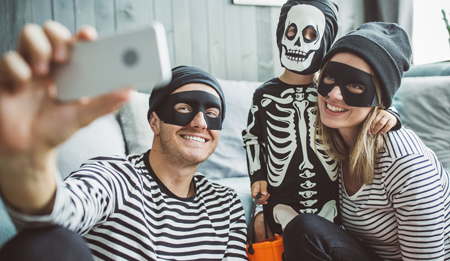 Do you enjoy being scared? Or maybe you just like getting into the Halloween spirit? Whatever floats your ghostly boat, we have some podcasts and apps to get you feeling spooky in no time!
Podcasts
Two Girls One Ghost

Hosted by bi-coastal besties Sabrina and Corinne, this podcast is great for those who love true tales of the paranormal. Each episode is centered on a specific theme and you don't have to listen to the episodes in order, so if you prefer haunted lighthouses to black eyed children, there's something for you. The friendly banter between the co-hosts keeps it from being too nightmare inducing, but you'll definitely want to check under your bed before going to sleep.

Start listening today!


Homecoming

If government cover-ups and psychological thrills are more your thing, this is definitely the podcast for you. This audio drama is narrated by Heidi Bergman, a small-town waitress with a mysterious past that involves a troubled military veteran and a government cover-up. With the voice talents of Catherine Keener, David Schwimmer, and Oscar Isaac, this story will have you hooked till the end.

Start listening today!


We're Alive

If you're a fan of The Walking Dead, you'll love this audio drama! The story is set around a group of people who are trying to survive a zombie apocalypse in downtown Los Angeles. One of the things that make this podcast great is the colorful cast of characters, which includes a French chef, an army sergeant, and a gun-toting senior citizen. You'll get so invested in the characters you'll be chomping at the bit to know what happens next!

Start listening today!


Inside the Exorcist

Sometimes truth really is scarier than fiction. This podcast not only dives in to your favorite classic horror movies, but tells you the stories that inspired them. The first season goes behind the scenes of the story that inspired one of the scariest films of all time: The Exorcist. But in some ways, the real story and the tales of the mysterious incidents that happened on set are scarier than the film itself.

Start listening today!


Welcome to Night Vale

In the world of paranormal podcasts, you don't get much more iconic than Welcome to Night Vale. Written in a unique format, this podcast is presented as a nightly radio show for the small desert town of Night Vale. With a dog park that doesn't allow dogs, mysterious hooded figures in the school playground, and a glowing cloud that seems to hypnotize the citizens of the town, Welcome to Night Vale is equal parts eerie, humorous and whimsical.

Start listening today!



Apps
Zombies, Run!

Training for your first 5K or just looking to get in shape? This app combines exercise with fun frights to keep you motivated for your entire run! The app puts you right in the middle of a zombie epidemic, where you're a runner trying to make your way to one of humanity's last remaining outposts. You'll go on missions to collect supplies while you listen to your music. But if the zombies find you, better make sure you start running faster!

Download today!


Pandora

Whether you want the ultimate Halloween party playlist or enjoy listening to scary music year around, Pandora has you covered! With playlists such as Halloween Party, Spooky Symphonies, and Ghostly Grooves, you'll be sure to find something that fits your mood!

Start listening today!


Tasty

Looking for some fun and delicious recipes for the hungry ghouls in your life? Look no further than the Tasty app! With fun recipes for Skull Candy Apples, Halloween Feet Loaves, and Dirt Brownies, your spread will be the talk of the town!

Download on Apple or Google Play!


Scary Ringtones

Want to scare your friends the next time your phone rings? Try uploading a scary ringtone! This app has 95 creepy ringtones to choose from, so you can change your ringtone daily (or hourly!) depending on the vibe you're going for.

Download on Apple or Google Play!


Pinterest

Need some inspiration for a stellar Halloween costume or terrifying decor? Pinterest has everything you're looking for and more! Simply search for what you're looking for and start crafting!

Download on Apple or Google Play!


Whether you're listening to your new favorite podcast on your phone or using your laptop to find some new spooky songs, make sure your devices are protected. We offer protection against cracked screens, spills, and other accidental damage. Get coverage today!