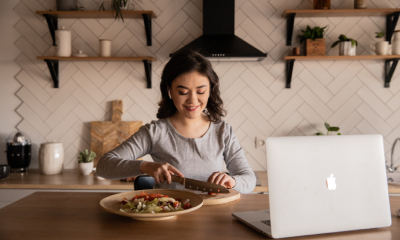 Do you have fantasies of cooking a five course meal or just want to improve your culinary skills? Here are six great cooking apps that will help you as you set out on your delicious new journey!







Yummly
Not only does this app feature easy-to-follow and delicious recipes, but you can easily customize it to fit your needs. Whether you're plant based, want to find a great dessert or have a craving for Mexican food, Yummly will send you the recipes you're looking for.


Download on iOS or Google Play

Tasty
With its bright colors and fun recipes, there's a reason Tasty's become one of the most popular cooking apps around. With One Pot Recipes, Weekend Meal Prep and Low Carb Meals among some of the categories, there's literally something for everybody. Plus, the step-by-step videos are great if you find yourself getting stumped.


Download on iOS or Google Play



Epicurious
When it comes to food writing and recipes, Epicurious has been hitting it hard since 1995. So it's no surprise that their app would be among the best. This app has over 35,000 recipes for you to search through, as well as customized shopping lists and an ingredients finder based on what you want to make. Currently it's only available in iOS, but we're hoping that'll change soon!








Kitchen Stories
The Kitchen Stories website was started by two friends when they met as business students. Neither of them are professional chefs, so their recipes are easy to follow with handy step-by-step video tutorials. It's easy to save all your recipes in one place, and you can even adjust the ingredient amounts depending on how many people you're going to be cooking for. It's currently only available for iOS but we're hoping it'll make its way to Google Play soon.



Project Foodie

Created by celebrity chef Daniel Holzman, this app was made to bring together all the best parts of cooking shows, books and apps, to create the "cookbook of the future." Recipes range from intermediate for home cooks to expert for culinary enthusiasts, and are accompanied by fun and easy real-time videos. The app is currently only available for iOS, but you can still find lots of great recipes on their website!



BigOven
Started by a software vet who also loves to cook, this app combines the sleekness of tech with the creativity of cooking. It's easy to take recipes with you anywhere, save recipes and even share your creations with family and friends. This was the first recipe app for iOS and Android, so you know it's a good one!


Download on iOS or Google Play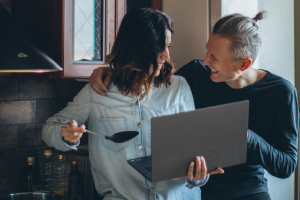 With insurance from Worth Ave. Group, your phone will be covered against accidental damage. So whether you drop it in the oven or spill water on it, you'll be covered. Get your FREE quote today!