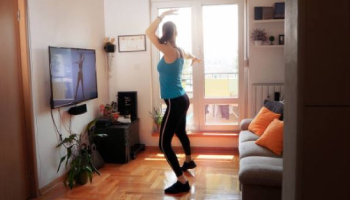 With gyms closed or just wanting to avoid close contact with others, trying to find a way to work out safely can be challenging. Thankfully, there are ways that you can get a fun and challenging workout – without leaving the comfort and safety of your own home. Here are a few great workout games that will help you get your sweat on:
Nintendo Switch


•Fitness Boxing
Boxing is one of the hottest new fitness crazes among Hollywood's A-listers, with Jennifer Aniston, Gigi Hadid and Ellie Goulding being big fans. It's a great way to tone your core and upper body while also getting in some intense cardio. Nintendo's Fitness Boxing features fun workouts done to the beats of your favorite songs, plus it allows you to personalize your workouts by selecting from different fitness goals.
•Just Dance 2020
With this game, you'll forget you're working out, because you'll just feel like you're having a dance party in your living room! The 2020 version of the Just Dance series includes even more of today's greatest hits, including Bad Guy by Billie Eilish, 7 Rings by Ariana Grande and Talk by Khalid. It even features eight new kid-friendly songs, in case the kids want to join in on the fun!
•Ring Fit Adventure
This is the perfect game for those who want a more traditional gaming experience while also getting a workout. To quote Nintendo, you'll "Explore a huge fantastical world and defeat enemies using real-life exercises!" Those exercises include jogging in place as you travel from one place to the next, doing overhead shoulder presses to battle monsters and striking some yoga poses to refill your health meter. You can choose between short missions or a long adventure, depending on what kind of workout you're looking for. If you want to get your hands on Ring Fit Adventure it's best to move fast, as it tends to sell-out quickly.


Xbox One


•Kinect Sports Rivals
Do you enjoy traditional sports such as tennis and soccer but are having a hard time finding a place, and people, to play? Look no further than Xbox One's Kinect Sports Rivals. This game actually takes a scan of your body to create a virtual avatar of you in-game. This is also a perfect game for teams, so if you're looking for a way to let loose with friends and family, this is the game for you.
•Kung Fu for Kinect
Ever wish you could be an action hero in your favorite comic book series? While you may not be able to quit your day job to battle bad guys, this video game will definitely get you one step closer to your fantasy! Similar to Kinect Sports Rivals, the game takes a scan of your body to create a personalized avatar, which you will use to punch, kick and jump as you take on a series of opponents. This game will definitely give you a fun, and effective, cardio workout!
•Shape Up
This game is like every crazy dream you've ever had come to life. Shape Up makes exercising fun by putting you in slightly weird situations, such as punching asteroids, squatting to the moon or bench pressing an elephant. It also lets you customize how you play depending on your fitness goals, such as 90-second training bursts to target specific muscles or a four-week adventure quest to really whip you into shape. One thing's for sure, you'll forget how sore you are while you're going on this zany adventure!
Photos Belong to Microsoft, Microsoft and Ubisoft


PlayStation4


•Yoga Master
If cardio and strength training aren't really your thing, why not give yoga a try? Not only is it great for muscle toning and flexibility, but it can also help manage anxiety and improve your overall mental health. This game has over 150 poses, a variety of programs and various relaxing backdrops to choose from, such as a beach, a relaxing studio and an Asian garden.
•Beat Saber
This video game requires a VR headset to play, but from the reviews it's been getting, the investment is worth it. This fitness game has you yielding a glowing saber as you slash through a series of blocks to the beat of techno music. It gets more challenging as you progress, with the beat getting faster and more blocks flying your way. You'll definitely get a good cardio and upper body workout with this one!
•Sprint Vector
Like Beat Saber, this game also requires a VR headset, but it'll be worth it if you enjoy a colorful, action-packed gaming experience. This game puts you in the middle of a series of challenging courses, where you have to sprint you way through various obstacles. The trick is you have to pump your arms to keep your avatar moving, which depending on how fast you're going, can give you an intense cardio workout!
Photos Belong to Bunny Gaming, Endgadget and Destructoid


Nintendo Wii


•Zumba Fitness
Since it hit the world stage in the 90s, Zumba has been a favorite fitness workout for dance enthusiasts, celebrities and those who just enjoy working up a good sweat. The Zumba Fitness video game includes more than 30 Zumba routines in nine different dance styles, including Salsa, Merengue and Flamenco. Whether you just want to get in better shape or perfect your dance moves, Zumba Fitness will help you do both!
•My Fitness Coach
If you're looking for a personalized fitness plan that will help you reach your goals, My Fitness Coach is the game for you. It begins by evaluating your fitness level and helping you set your fitness goals. Whether it's weight loss, core strength or increased flexibility, My Fitness Coach will help you get there. Your virtual personal trainer will guide you through the workouts, providing advice and motivation along the way.
•Go Vacation
This game plays double duty – it'll help you get fit while also taking away some of the sadness of missing out on your summer vacation. Go Vacation takes place on the fictional Kawaii Island, where you can choose from four different resorts. Each resort has a range of different activities, including jet skiing, beach volleyball, snowboarding, surfing and more. This is a great one to play with friends and family, and we guarantee you'll have so much fun you'll forget you're even breaking a sweat!
Photos Belong to Blaze DVDs, Honest Gamers and Independent

If your video game console has become your personal home gym, make sure you never miss a workout due to water damage, a broken power supply or a damaged controller. Our insurance plans will insure your console against these and other potential mishaps, starting at just $25 per year. Get your FREE quote today!