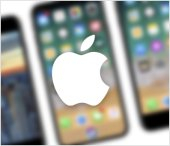 The day is almost here... yes, Apple fanatics, iPhone Day is coming! An event that has truly become an annual holiday exposes smartphone users everywhere to the new, highly anticipated iPhone. While little is known, at this point, about the specifications and features of Apple's newest smartphone model, sources in the industry have begun to leak potential details to eager consumers. In the following blog post, we have highlighted what we currently know about the upcoming Apple iPhone 8.
---
Reveal Date: In what has been confirmed in the past week, Apple's CEO, Tim Cook, is scheduled to reveal the latest in Apple's iPhone line on Tuesday, September 12th. This reveal will mark the iPhone's 10th anniversary device so, one can assume, it promises to pack a little extra flair this time around! The iPhone's actual release to the public is less known, but experts are assuming it will fall about 2 weeks after the reveal.
The Demise of the Home Button: You're reading this correctly, according to multiple sources, there is full anticipation that the iPhone 8 will not include its' famed Home Button. Instead, it appears as if a different form of the home button or navigation dock will appear on the screen as opposed to being an actual physical button. The biggest effect of this change will come in the way of the eliminating of Touch ID. So how will Apple replace this security feature? Read on.
Facial Recognition: The new primary security feature will be facial recognition! While not much is known about the overall functionality of this feature, it is rumored that infrared technology will be used to scan a user's face while in the dark. All signs point to this being a solid replacement for the Touch ID and the standard 6-digit passcode security methods.
Wireless Charging: You might do a double take on this one, but it's true! Utilizing magnetic coils and a charging pad, the Apple iPhone 8 will be able to be charged by a current generated by an electromagnetic field. Don't be confused by all the scientific terms, though, it is proven to work. So no longer will you need a special iPhone case or annoying cord to maintain your iPhone's battery life, wireless charging is on the way!
---
So what do you think of the newest features of the iPhone 8? If you are considering purchasing the iPhone 8 make sure that you don't go without insurance coverage! In fact, did you know that you can purchase insurance coverage for as low as $4.50/month? That translates to just $54 per year! This deal is not exclusive to iPhone 8 owners either; in fact, if you own any model of the iPhone you are eligible for this top-of-the-line deal. We cover damages including: accidental damage, cracked screens, liquid submersion, theft, vandalism, fire, flood, natural disasters and power surge by lightning depending on the device.
Sources
MacRumors.com | iPhone 8 Roundup
CNet.com | Apple iPhone 8 Preview
Forbes.com | Apple iPhone 8 Leaked Rumors