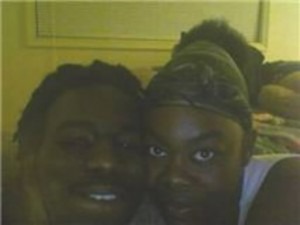 A Newport News woman, Patricia Ramos got an email January 21 showing a picture of the two thieves that had stolen her laptop. "I noticed that it was on my phone," recalls the 25-year-old, "and I said, 'Wait a minute. I didn't send this,' and, so, I opened it up, and there's a picture of them enjoying my hard earned money." The pictures showed two people posing in front of the webcam, on a laptop which was stolen from her and her boyfriend's home on January 16. Ramos had synced her cell phone and the computer with a program that sends notification to her smartphone when files are sent from the laptop. "We're hoping that someone out there knows these people and has the decency to recognize two hard working people that were violated," Ramos tells 13News. The thieves who broke into her residence stole various electronics. As well as a lock box containing old photos. Besides the monetary loss of her computer, Ramos states it contains numerous files of pictures and documents which cannot be recovered. "My laptop, basically, chronicled my daughter's life from her birth, from before her birth," shares Ramos. "I mean, words could not describe what it would be like to actually have these things returned to us." The Newport News police department are looking for the people in the picture sent to Ramos' smartphone, because they may have information about the burglary.

If you have any information regarding this theft or you recognize one of the two people in the picture, you can reach police through Crime Line at 1-888-LOCK-U-UP. Callers remain anonymous and could be eligible for as much as $1,000 in reward money.

Worth Ave. Group, covers theft to a laptop.