The Google Chromebook is increasingly become a more popular laptop option, with the latest Mac laptops pushing $2,000. With new sleek designs, Google suite and a more than tolerable price point, a rising number of people are deciding that Chromebook is their laptop of choice.
Does this sound like you? If so then read on, in the following blog post we will break down 3 different types of Chromebooks available for purchase so that you can choose which one is right for you!
---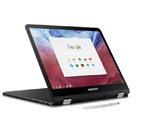 Samsung Chromebook Pro (priced around $500)
Pros: Sleek Design, Performance Speed, Display
Cons: Battery Life, App support, small keyboard
Who this device is for: People who want a sleek, smart, useful device but don't mind limited battery life.
Summary: The Samsung Chromebook Pro is a sleek yet sturdy device. It has an Intel Core M3 Processor, beautiful HD screen and built in pen for drawing and writing. Additionally, this Chromebook has 360-degree versatility, meaning that it can be flipped around to resemble a tablet or e-reader.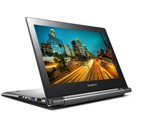 Lenovo Thinkpad 11e Yoga Chromebook (priced around $379)
Pros: Tablet functionality, usability, sturdy
Cons: Battery life, price, heavy
Who this device is for: Students, young people who only need a computer for light use.
Summary: The Lenovo Thinkpad 11e Yoga Chromebook is a rugged usable device. It's functional and built for students; however it cannot run many normal programs. The battery life also suffers when under intense use.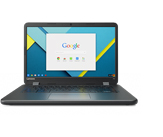 Lenovo N23 Chromebook (priced around $200)
Pros: Durability, rotatable camera, built in handle
Cons: App support, program speed, performance
Who this device is for: Students or people who work at worksites (construction etc.)
Summary: The Lenovo N23 Chromebook is a device built for the classroom. It's built in handle makes it easy to carry, while its specially made keyboard helps protect itself from wear and tear. Though it isn't as fast or as pretty to look at as other more expensive models, this Chromebook is perfect for students or people who like a more rugged device.
---
Have you been considering purchasing one of these Chromebook options? If so, make sure your device doesn't go unprotected from a litany of accidental damages! Insure your Chromebook through Worth Ave. Group and avoid the risk of having to replace the products at a much higher cost! Our insurance coverage offers you protection on the following losses: accidental damage, cracked screens, theft, liquid submersion and more! In addition, we cover the following models: Acer, Toshiba, Samsung, Lenovo, Dell and Google.