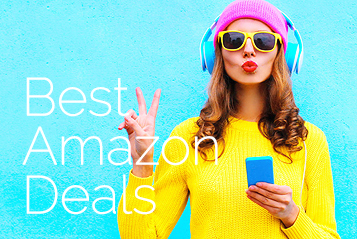 Every July 16th, since 2015, online shoppers are glued to their computer screens for the best deals and prices available through Amazon Prime. In an era where "Black Friday" and "Cyber Monday" have staked their claim as nationally important shopping events, Amazon Prime is making a fierce attempt at winning a slice of the action with Amazon Prime Day.
In fact, Amazon is growing beyond the "national" venue and is expanding into Australia, Singapore, Netherlands and Luxembourg this year. These countries join the already affiliated United States, United Kingdom, Austria, Belgium, Canada, China, Germany, France, India, Italy, Japan, Mexico and Spain.
So what are the biggest deals to be on the lookout for in 2018? Below we have highlighted the rumored deals that are expected to be available next Monday!
---

Amazon Music for $1 (4 month subscription): The only caveat is that this available for new users only. This is a good alternative to Spotify and iTunes.

The Echo Show for $130: This is a $100 decrease in its normal asking price. With touch screen controls and video capabilities, The Echo Show is, essentially, a more high-tech version of the Alexa. Read more about it here.

Amazon Kindle Unlimited for $1 (3 month subscription): For avid readers, and new users, this is a great deal! Users will have access to more than a million titles and the freedom to read as many as you desire in that 3 month span.

Free PC Games through Twitch prime (through July 18th): With an array of popular titles, Amazon is rewarding its Prime users the opportunity to acquire free games through July 18th and receive a special in-game look at games such as Warframe and PlayerUnknown's Battlegrounds.

Amazon FreeTime for Kids for $3 (3 month subscription): Great deal for parents with young kids! You'll be awarded the opportunity to view thousands of books, movies, games, TV shows and educational apps.

Amazon Prime Pantry Orders $10 (for order of $40 or more): This deal is great for those looking for some new household goods!

Whole Foods Discounts and Amazon Credits: For Prime users who spend $10 at Whole Foods between July 11th and July 17th, you will receive a $10 Amazon account credit to use, specifically, on Amazon Prime Day.
Do any of these Amazon Prime Day deals interest you? Over the next week, stay tuned online for the latest rumors and deals available through Amazon Prime. Happy shopping and happy Amazon Prime Day!