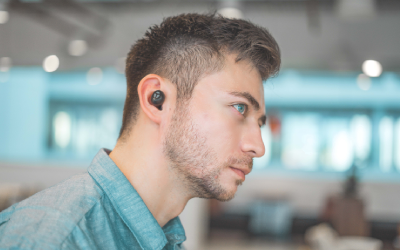 On October 30, 2019, Apple made headlines when they released their all-new AirPods Pro. A more high-end version of the original AirPods, the AirPods Pro promised a more comfortable fit, better sound and more user-customization. All for the cool (and somewhat controversial) price of $250. Not to be outdone, Sony has just released their own new earbuds: the Sony WF-SP800N. How do these two sets of earbuds compare, and which one is better for you?


Apple AirPods Pro
Apple definitely made waves when they announced the release of the Apple AirPods Pro in October 2019. Hailed as some of Apple's best technology in years, they were promised to be a complete re-design of the original AirPods. These new earbuds featured a more comfortable fit, sweat and water resistance, noise cancellation and a richer, more customizable experience. While the technology was certainly a step up, many people weren't happy about the $250 price tag. But, while the price was definitely high, consensus among reviewers was that the updated technology, more comfortable fit and better listening experience more than made up for it.



Sony WF-SP800N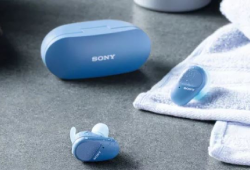 Sony released their new earbuds on May 7, the WF-SP800N. This set was meant to be the middle option in Sony's earbud line-up at $200, with the WF-1000XM3 on the high end and the WF-XB700 on the low-end. These earbuds were created with workout enthusiasts in mind, they featured water and dust resistance, a nine-hour battery life and digital noise cancellation. They can even be washed if they get dirty after an intense workout. While early reviews are generally positive, some didn't like how far they stuck out of the ear, and some had a problem getting a tight fit in the ear, meaning the noise cancellation wasn't as effective.


Image Credit: Sony

Apple vs. Sony - Which One?
When it comes down to whether you should go for Apple or Sony, we've provided this handy chart to get a clear comparison:


| Specs | Apple AirPods Pro | Sony WF-SP800N |
| --- | --- | --- |
| Colors | White | Black, Blue, Red, White |
| Battery Life | 5 hours | 9 hours |
| Water Resistant | Yes | Yes |
| Noise Cancellation | Yes | Yes |
| Size | 1.74 x 0.84 x 2.11 inches | 2 x 4.75 x 7.5 inches |
| Audio | Built-in Microphone Inside and Outside | Built-In Microphone |
| Price | $250 | $200 |


So while Apple has more advanced technology and are a bit smaller than Sony, the Sony earbuds feature a longer battery life, more color variety and a more wallet-friendly price tag. When it comes down to choosing which one is for you, the choice comes down to what you will be using your earbuds for. If you're going to be taking them for a 10 mile run on the trails or a hefty lifting session, the WF-SP800N are probably going to be the better choice. The larger size makes them a bit more durable and the longer battery life means there's less risk of being out on a run or hike with a dead pair of earbuds. If you're strictly going to be using your earbuds for listening to music and want the best audio experience, then the AirPods Pro are going to be your new best friend. In this case, it's worth it to spend a little more for the more advanced technology.


Whether you use your devices for a hard workout or jamming out in your living room, you want to make sure you're protected. A comprehensive insurance plan from Worth Ave. Group will protect your device against damage from drops, liquid damage or other potential accidents. Get your free quote today!