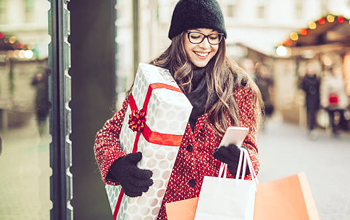 Christmas will be here before you know it. To avoid the chaos of hot, over-crowded shopping malls and the all-encompassing panic of the best gifts being picked-over, why not get a head start on your holiday shopping? Here are eight great gifts for the tech-lover in your life.

Amazon Echo Show 5
Meet the Amazon Echo Show's smaller, sleeker cousin. Like the original, the Amazon Echo Show 5 is a smart display Alexa-enabled device that allows you to watch videos, make calls, organize your shopping lists and more. Think of it as a handy-dandy organizer for your life. What makes the Echo Show 5 different, however, is that it can also function as an alarm clock. It's much smaller than the original Echo Show, so it can easily fit on your bedside table without taking up too much space. You can choose from several clock faces to fit your style and it even has an ambient sunrise lighting feature to help you get your day started. And if the idea of having a camera and voice-recorder in your bedroom makes you uneasy, the Echo Show 5 has a button that enables you to turn off both the microphone and the camera.



Blink XT2 Indoor/Outdoor Security Camera
If you want to give a gift that's practical as well as technical, this indoor-outdoor security camera fits the bill. Its small, compact design allows you to put it almost anywhere discreetly, which is great for added security. You can link the camera directly to your smartphone using the Blink App, so you can monitor your home from anywhere. Plus it has 2 Way Audio, so you can surprise that suspicious visitor at your front door. To round off its impressive features, it comes with infrared night vision, a two-year battery life and is weather resistant. If you're always searching for the perfect gift that you know someone will get a lot of use out of, this is it.



Tile Pro Tracker
We all have that friend who's constantly losing their keys or never seems to remember where they put their phone. The Tile will be their new best friend! The Tile is a Bluetooth-enabled device that you can attach to your keys or anything else that you want to keep track of. If you misplace it, all you have to do is call it using the Tile app, and your Tile will ring if it's nearby. And if you lose your phone, just double press the Tile button on your Tile and your phone will ring, even if it's on silent. Easy and convenient!



Nintendo Switch Lite
This is a great gift for the gamer in your life. Released in September, the Nintendo Switch Lite is a smaller, more streamlined version of its predecessor, the Nintendo Switch. It comes in three fun colors (Teal, Yellow, or Gray) and is perfect for gaming-on-the-go. If you have a friend who has a long commute or does a lot of traveling, they'll definitely appreciate this gift! Check out our blog post all about the Nintendo Switch Lite for even more information.


Ember Smart Travel Mug
Any coffee-lover will tell you there's nothing worse than getting to your desk and finding that your delicious, steaming cup of coffee has turned into a stale, lukewarm mess. If you're looking for the perfect gift for the caffeine addict in your life, the Ember Smart Travel Mug is it. This smart mug goes one step beyond your standard to-go cup - not only does it keep your coffee hot, but you can set it to an exact temperature and the mug will keep it there for up to three hours. No more burning your tongue or cringing over cold coffee!

Furbo Dog Camera
If you have a friend whose dog is like their child, they need this gift in their lives. The Furbo Dog Camera is the perfect way for you to keep an eye on your fur babies while you're away from home. Using your phone, you can check in on your dog throughout the day, talk to them and even "throw" them a treat if they're being especially well behaved. Furbo will also send you alerts throughout the day, such as when your dog barks or is being especially active. Furbo has the stamp of approval from celebrities such as Jennifer Lopez and Ellen DeGeneres, so you can rest assured it's a quality item that your friend will appreciate!



Philips SmartSleep Lamp
For the friend or family member in your life who has trouble falling asleep and/or dreads mornings, they'll definitely appreciate this gift. The SmartSleep Lamp uses light to simulate a sunrise or a sunset, so it'll gently help your body wind down for the night and feel energized in the morning. And for those that really have trouble falling asleep, you can choose between several light-guided breathing exercises to help you unwind and relax into a restful sleep. Your friends and family will definitely thank you for this one!

Apple AirPods with Wireless Charging Case
For the music lover in your life, you can't go wrong with a set of Apple AirPods. These headphone are wireless, so you won't have to worry about tangled up wires, plus they offer great sound and five hours of listening time. They even come with a wireless charging case, so you can easily travel with them and charge them up on the go. Great for all that holiday traveling!
To ensure your electronic device gifts keep on giving, make sure they're protected! Don't let a cracked screen, drop, or spilled eggnog ruin the holiday spirit. View our products for all the details!